This page is dedicated to those who have successfully earned their GED Certificate. Many people from different backgrounds, socioeconomic status and facets of life have their own personal reasons for attaining their GED certificate. Here are just a few of them….
---
Sweetwater Union High School Community Members: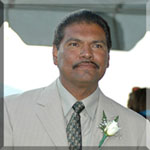 Joe Brosz, former principal at Otay Ranch High School
Jaime Mercado, former principal of San Ysidro Adult School; former Board Member of Sweetwater Union High School District
Daniela Amezquita, former SUHSD Adult Education student
Daniela came to Sweetwater Adult Education in 2004. She completed the school's orientation in December 2004 and enrolled in an Adult Basic Education class. She went on to earn her GED and graduated in November 2005.
The school's college and career counselors helped her enroll in Southwestern College in 2006, where she studied to be a marine biologist. At that time, she worked at the National Oceanic and Atmospheric Administration (NOAH) as a biological technician.
---
Famous Celebrities:


Peter Jennings – ABC news anchor


Chris Rock – comedian, actor


Cher – actress, singer


Christian Slater – actor


Frank Sinatra – singer, actor


John Travolta – actor, singer, dancer
More Celebrities
Hilary Swank – actress
George Harrison of The Beatles
Ringo Starr of The Beatles
Greg Mathis of "Judge Greg Mathis"
Dave Thomas – tycoon founder of Wendy's restaurant
Avril Lavigne – musician
Eminem – rapper/actor
Danica Patrick – Indy Car racecar driver
Boy George – musician
Marylou Retton – Champion Gymnast
David Bowie – musician/actor
George Carlin – comedian
Prince – musician
Roger Daltrey of The Who
L.L. Cool J – rapper
Vidal Sasson – business tycoon
Richard Pryor – comedian